Welcome to Foodie Friday.
Great cooks can be found in a kitchen. Great cooks can be self-taught, learn from an experienced friend or family member, or take professional courses. Great cooks are sometimes born, but more likely, it takes time and many experiments.
But what makes a great kitchen?
It goes without saying that good food can be created on a campfire. Bad food can come out of a magazine-quality room,equipped with a Wolf range and Sub-Zero fridge.
What is your ideal kitchen?
What are your must-have elements?
Equipment? Design? Natural light? Storage?
A clean, crisp room? White cabinets? Uncluttered counters?
Do you need cookbooks, a view, or colorful pottery?
A gentle reminder to "relax?"
Thank you for stopping by Foodie Friday today. If you are contributing a recipe to this week's linky party, locate the blue Inlinkz frog (below, left) and follow the instructions. You might notice a red "X" on your submission--only you can see the "X." It allows you to delete your link
if you'd like to edit or change your photo.
The Foodie Friday Button: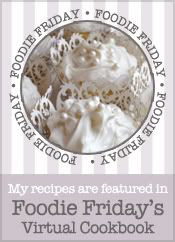 If this is your first time to participate in Foodie Friday, or if you aren't sure how to add a permalink, a short
tutorial
is available. If you are linking a recipe to Foodie Friday, a FF button can be found on the sidebar. If you'd like to add it, simply copy-and-paste the code beneath the button (located on the right-hand sidebar).
Social Bookmarking