This has been one of those weeks.
I haven't had time to set the table, so I pulled out an old tablescape. I had so much fun choosing the dishes and flatware, finding a tablecloth, planning the menu.
Was it just this past winter when I planned this meal?
I'd been writing and writing, but I had a life, too. Now it's just me and the book. It's hard to describe how something can just take over your life,
and suddenly you don't have time to unload the dishwasher.
This has been one of those weeks where I found plot holes and things that didn't go together. I had to cut, paste, delete.
I do the same thing when I'm setting a table. Sometimes I can't see where I've gone wrong until I take a few photos. Then I'll realize the scale is wrong or I've used crazy colors. Sometimes I don't know what I've done wrong; I just know it looks horrid.
So I revise the tablescape.
I guess it's inescapable. We make errors because we're human. But God gave us the ability to try and correct those errors...even if it's a book or a tablescape. It helps us see that we are capable of fixing bigger problems in our lives.
The winner of the garden basket is--Alea Milham! Congratulations, and thanks to all who entered the contest and took the time to leave a message. I'll be hosting another giveaway soon. Alea, please send your address and I'll ship you a basket and a book.
Thank you for stopping by Foodie Friday today. If you are contributing a recipe to this week's linky party, locate the blue Inlinkz frog (below, left) and follow the instructions. You might notice a red "X" on your submission--only you can see the "X." It allows you to delete your link if you'd like to edit or change your photo.
Look on the sidebar
for the Foodie Friday Button

: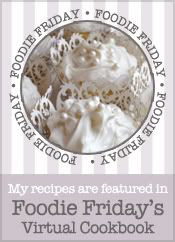 If this is your first time to participate in Foodie Friday, or if you aren't sure how to add a permalink, a short
tutorial
is available. If you are linking a recipe to Foodie Friday, a FF button can be found on the sidebar. If you'd like to add it, simply copy-and-paste the code beneath the button (located on the right-hand sidebar).
Please Read:
I'm happy for you to "pin" my original photos to Pinterest. However, the photographs in Foodie Friday's thumbnails belong to the bloggers who posted them. To visit these blogs, click on the Foodie Friday inlinkz icons and read their policy on Pinterest. Please pin from the source blog, not the blog that's hosting a linky party. Thanks!
Social Bookmarking